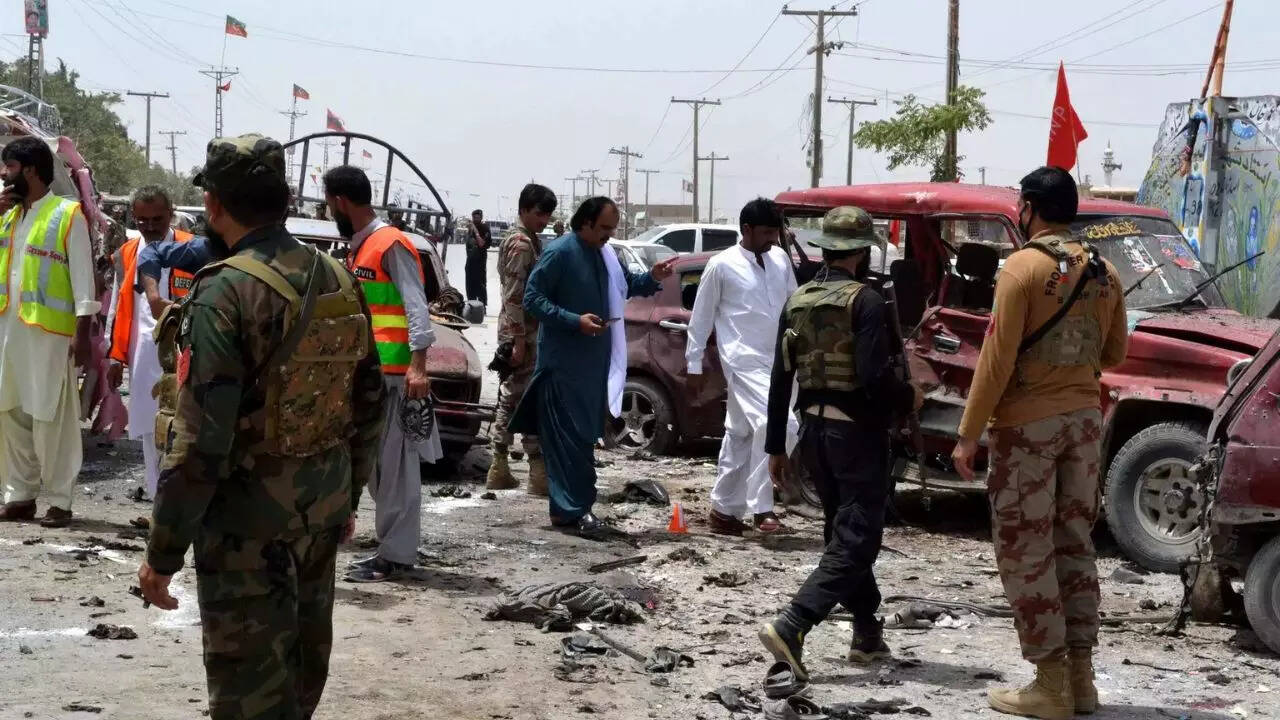 ISLAMABAD: Following the Mastung suicide blast that killed over 59 people, Balochistan Caretaker Information Minister Jan Achakzai said, "enough is enough" and declared an "all-out war" against terrorists, reported Dawn.
In the remote Balochistan district of Mastung, a suicide bomber targeted an Eid-Milad-un Nabi (PBUH) procession on Friday, killing people, including a police officer, and injuring 100 more.
While addressing a press conference, Achakzai was asked about a possible grand operation as the terrorists attacks are increasing in the province, to which, he said that he could not comment on that but added, that the state would defend each and every inch of its territory and carry out Intelligence-based Operations (IBO) if needed.
However, two days have passed but no militant group has come forward to claim responsibility of the bombing.
The banned outfit Tehrik-i-Taliban
Pakistan
(TTP) stayed distant from the carnage in a statement.
Moreover, according to Pakistan based Dawn, the Counter-Terrorism Department (CTD) filed a case against unidentified persons.
However, earlier, Chief of Army Staff General Asim Munir said that the terrorists and facilitators behind the attacks were "proxies of the enemies of Pakistan and its people."
During the press conference, Achakzai further noted that the terrorists incidents were occurring in the entire country "daily and it has a set pattern", reported Dawn.
"This means there is a mastermind behind it who is systematically destabilising us. Enough is enough. Now there will be no appeasement or concession … we declare all-out war on these terrorists," he said.
He added, "Pakistan's resolve is very important. It (Mastung incident) is such a case where we won't say that we will go after (only terrorist) operatives and foot soldiers."
"We will go after their masterminds, the lynchpins managing all these proxies and will ensure that we will go wherever they are holed up, drag them out and take revenge for each and every martyr."
Moreover, Achakzai emphasized that the state's determination to combat
terrorism
was strengthened by "1000 per cent" after the Mastung incident.
Why is Baloch targeting Chinese in Balochistan? Activist Hakeem Baloch explains
Adding to this, he said that the state was ready to go to any extent required. "If there is a need to do operations in every inch of territory then we will do them," Achakzai said.
Meanwhile, the information minister also said that the families of the martyrs would be provided with financial aid.
The family aid will include Rs 1.5 million for the family of the martyr, Rs 0.5 million for the critically injured and Rs 0.2 million to the nominally injured, Dawn reported.
Additionally, the Balochistan government is also in talks with the center to improve the package, he added.
According to the minister, the security protocols were being revisited following the incident and any loop holes would be plugged to ensure no security lapse occurs.
Moreover, as the law and order situation in Pakistan is deteriorating, an important Apex Committee meeting is scheduled in Islamabad for October 3 in which "very critical decisions will be taken" with a later provincial apex committee meeting on October 10 in which "highly decisive decisions and actions will be recommended", he said.
Watch Suicide blast in Pakistan: Over 50 people dead as suicide bomber explodes himself at a mosque in Balochistan